Vintage Maps
The Complete Traveller has a fine selection of vintage maps which would look fantastic framed and matted in your home.  They also make wonderful gifts!
Nearly half the inventory is made up of maps of the USA, many of which are from the 19th century.  Noteworthy examples include New Orleans 1860, Georgia 1897, and the Southern States from 1839.

We also have an excellent inventory of European maps, many from the mid-19th century when Europe as we know it today was being formed amid upheaval.  For instance, a really nifty 1785 map of the Netherlands, as well as Madrid 1831, France 1783, Brussels 1895, and lots more.

Don't miss our selection of maps of Asia, Africa, South America, and the rest of the world! South America from 1821?  How does that grab you?  What about Asia from the same year?
Please write or call ([email protected] or (212) 663 - 6329) with any questions or more information.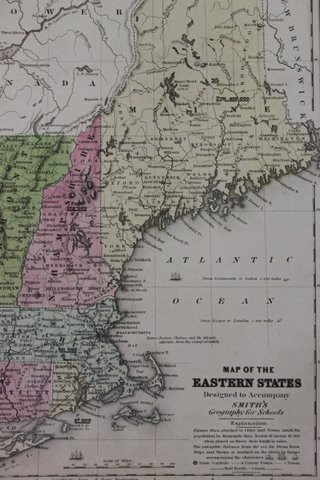 Map of the Eastern States,
1839, Smith's Geography for Schools, 
9,5 x 11,5, Handcolored, $ 100